Friso® Gold Rice-based Cereal
For babies 6 – 12 months
Calcium
Helps build strong bones and teeth

Iron
An important component of red blood cells

Iodine
Contributes to normal cognitive function
Easing your baby's transition to solids
As you wean your baby, they are likely to eat less until they become more familiar with solid food. Friso Gold® rice-based and wheat-based milk cereals are rich in important nutrients to ensure your baby has a balanced diet. They are also made with milk powder so they taste more familiar to your baby. The smooth texture eases their first step into eating solids and is easier for little tummies to digest. It's easy for you too because Friso Gold® cereals are prepared the same way as Friso Gold® formula – just add water.
Formulated for your baby's development
Friso Gold® rice-based cereal is recommended for babies 6 months old, who are just starting on solid food. The fine texture makes it easier for your baby to get used to solid food. The wheat-based cereals are for babies who have grown used to the rice-based cereal. The thicker texture encourages your baby to practice chewing and swallowing.
Rice-based and wheat-based cereals specially formulated to help your baby start on solid food. These 2 cereals meet the needs of your baby at different stages of growth to support the all-rounded development of your little one.
Ingredients
Skimmed milk (35.8%), rice flour (28.8%), vegetable oil, sucrose, lactose, carob bean gum, vanilla flavor, maltodextrin, vitamin (C, E, nicotinamide, A, B6, B1, ß-carotene, folic acid, D3), minerals (iron pyro phosphate, copper carbonate).
Want to give Friso® Gold Rice-based Cereal a try?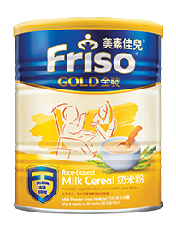 Discover the Friso® Cereal range
Complete Nutrition info
Description
Unit
Per 100 g
Vitamin A
ug-RE
280
Vitamin D
ug
8.5
Vitamin E
mg-α-TE
3.8
Vitamin B1
ug
225
Vitamin B2
ug
550
Niacin
mg
2.8
Vitamin B6
ug
300
Vitamin B12
ug
0.62
Folic acid
ug
38
Vitamin C
mg
24
Biotin
ug
5
Description
Unit
Per 100 g
Energy
kcal
435
Protein
g
16.4
Total Fat
g
12.9
- Linoleic acid
mg
1600
- α-linolenic acid
mg
220
Carbohydrates
g
63.2
- Lactose
g
27.8
- Sucrose
g
12
- Starch
g
23.4
Dietary Fibre
g
1.1
Sodium
mg
170
Description
Unit
Per 100 g
Iron
mg
7
Calcium
mg
480
Phosphorus
mg
350
Magnesium
mg
50
Chloride
mg
380
Potassium
mg
670
Iodine
ug
53
Copper
ug
120
Zinc
mg
1.7